So, schools out and the creative saturdays team are either off on their hols, looking after children or creating new lives so the number of helpers we have is limited! However that is not stopping Coz and me!
Wrens Nest's Pop Up Cimena
We are proud to announce the exciting, first ever Pop Up Cinema will be taking place at Wrens Nest Community Centre  on Friday 16 August 2013. We have gotten our children to rumaged through their DVD'S to find ones they would like to share with others. So far we have on offer to show
Ice Age 4 – Continental Drift

Madagascar 3

ParaNorman
We are encouraging others to do the same, so hopefully on the day we will have 2 films out of 5 to pick from. There will be two showings at 1:00pm and 3:00pm and you can come to one or both for free!
There will be popcorn and juice and a chance for the comunity of all ages to come together to laugh and have fun! We ask that if children are under the age of 8 that they are accompanied by an adult and that DVD'S shared are suitable for all the family to watch.
Wrens Nest Swap Shop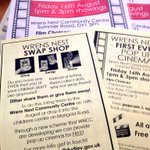 Sharing things is such a brilliant thing to do that we are also staring up Wrens Nest DVD Swap SHOP! If you have any DVD'S that you don't watch anymore instead of letting them collect dust, why not give them away so they can find a new home within your community, swap them for a different DVD or Show them at your own pop up cinema event!
Give them: you can give any unwanted DVD's away to find new homes within your community by donating them at either the Community Centre on Summer Road or the Children's Centre on Marigold Road.
Swap Them: bring your DVD'S along to the Community Centre on the 16 August between 1:00pm – 5:00pm and swap them with someone else.
Show Them: Through a new scheme that Wrens Nest Community Centre is involved in we can provide you with the room and equipment to organise your own Pop Up Cinema for free!